Well… what do you think is the most valuable asset on the earth? Oil?
Nah!
Because gone are those days when oil used to be the most valuable asset on the earth. And being Oil-rich was meant that you were guaranteed an important status in the world. No matter if you are a country or a company.
But now since the World has turned into a global village, connecting and bringing people closer to each other than ever before regardless of the boundaries or distance, with just a few clicks away, undoubtedly it has exposed us too than ever before in history. And with the wake of globalization, we entered a world that comprises social media, feeds, online platforms, dating sites, online payments, maps, video platforms, etc with needless to say all these technologies require our date to operate and make our lives easier.
Now when these technologies have become an essential need in our daily lives, which means we interact with them in the form of data on daily basis, do we ever thought for a second where did this all data go? Is this useful anymore? Or could anything be achieved further from it?
Every data we post on social media sites or interact with (like, share, comment), every time we swipe our credit card, the places we visit, the search terms we used to get our desired results is the data, the new big deal which is now worth to companies more than oil. That is why last year, the data surpassed oil in its value. But which companies? Discover later in this read.
Many times in our lives, we came across some news of "data breach" or some malware attacks carried on some certain social media site, looking at it, did we ever think what the attackers or hackers behind the data breach are trying to achieve? Hell yeah! It's the data, that comprises of the activities you and I performed online.
Therefore, it's not the oil companies that are wealthiest anymore, in fact, "the wealthiest companies are now technology companies". And the reason why these companies are the most powerful in the world is that they've got the data of millions and billions of users all around the world.
And in case if you don't know, what is the power of data in the current world and what can be achieved from this data? Here's what you want to know; from the election results of the superpower U.S.A to a small company situated in any small corner of the world, they all can achieve the desired results and become the derive the behavior of the whole society.
Remember the Cambridge Analytica scandal and claims of the involvement of Russian agencies in U.S Elections 2016? That was all about data!
Importance of Data in the wake of U.S Elections 2016
Few months before the Presidential Elections, the Republican Party Candidate which is now the President of the U.S Donald Trump initiated a digital campaign for the upcoming elections named "Project Alamo". This was considered as the digital arm for the Republicans in the Election Race.
Other than targeting people with sponsored campaigns, videos, blogs, stories, and promoting their election manifesto, there was another thing involved in all this project, which claimed to give Republicans an extra edge over their competitor, not only in elections but in targeting people with digital campaigns too.
And that was none other than the notorious Cambridge Analytica! A British political consulting firm by the intro, which was also known to be influencing hundreds of elections globally.
Through Project Alamo, on average, they spent approximately $1 million each day on Facebook ads.
But shocking situation arose at that time when two former employees of Cambridge Analytica, Christopher Wylie (Data Scientist) and Britanny Kaiser (Manager) whistle blows about the scandal that shook the world.
According to them, Cambridge Analytica was involved in a kind of data breach, in which they harvested the data of some 30 million individuals from Facebook.
Through the data, Cambridge Analytica fetched from Facebook, the truth is, they didn't target every American voter equally. Because it is not fruitful to target those who are politically enlightened or polarized with fixed views. Hence, it is used to target that tiny sliver of people who didn't have fixed views or say aren't polarized, and they are called "Persuadables".
The data giant companies target them with sponsored ads, blogs, articles, fake stories, and links, to persuade them to vote. Regardless to say, they even target those with personalized messages if needed. And in order to send people personalized messages, you need people's data, which Cambridge Analytica claimed to have 5000 data points of every American Voter.
"We can use to predict the personality of every adult in the United States. Because it's personality that drives behavior and behavior that obviously influences how you vote."

C.E.O – Cambridge Analytica
Speaking on the issue of the importance of data, one of the whistle blower inside the Cambridge Analytica Chistoher Wylie said,
"if you want to fundamentally change society, you first have to break it. And it's only when you break it is when you can remold the pieces into your vision of a new society."
Among all this, the real controversy stirred up when Facebook, the social media giant too allegedly found to be involved in this. Due to which the Founder of it Mark Zuckerberg was called in Senate for the brief in a historical session.
While taking on the questions, one of the senators asked Zuckerberg, "Do you think that any employee from Facebook was involved in that scandal"? To which Zuckerberg replied,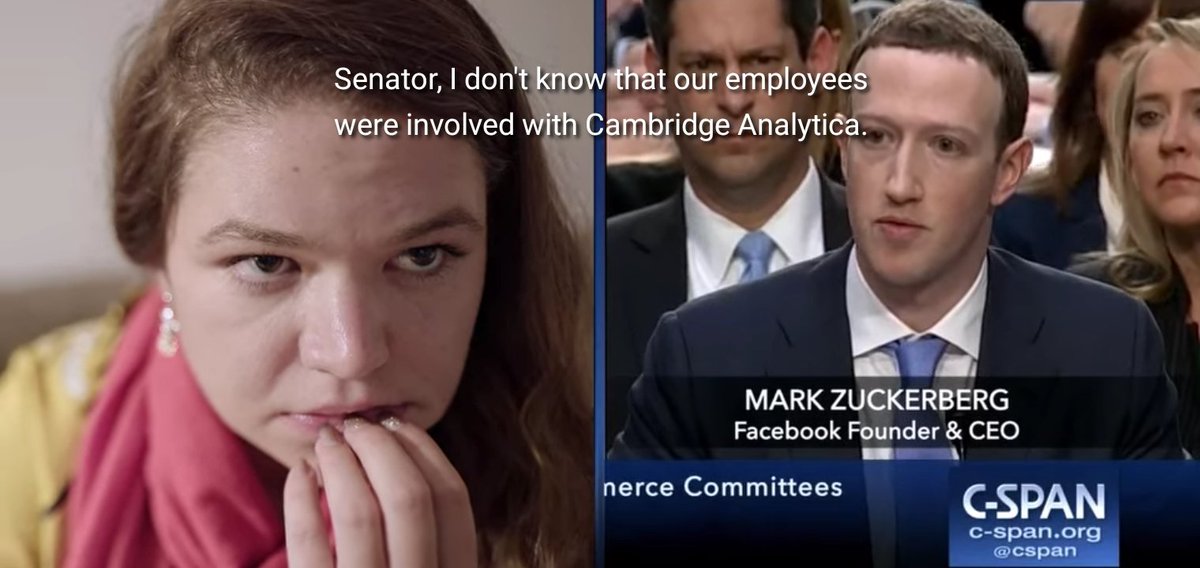 It came as a shocking surprise to Britanny Kaiser who was the part of that Cambridge Analytica team involved in U.S Elections. Moreover, Kaiser directly rejected the claim of Zuckerberg and said, that the Republican Team in D.C was comprised of Facebook employees.
It didn't last at this. The climax emerged when the Cambridge Analytica Team was contacted by Facebook concerning data breach. Cambridge Analytica agreed on terms according to which, the Analytica have to delete and erase all the data within weeks.
But when one of the whistleblowers within the company Britanny Kaiser looked back to retrieve some of her old stuff related to CA, she found out the famous presentation from her laptop, which she prepared and pitched to the Republican Party. In this presentation, which made weeks or years after the consensus reached with Facebook about the erasing of data in weeks, it was written that they had the database of 30 Million individual Facebook account users which makes them different from others as mentioned in the below picture.
To know about this scandal in detail, tune in to Netflix and watch "The Great Hack". And remember, "Don't underestimate the power of a common man and data", as the data is powerful enough to influence the elections of a super power country. This wasn't the first time data have been used to manipulate the society's behavior to achieve a certain goal, before the U.S elections, the same strategy had been applied for Brexit to promote the Leave European Union Campaign, etc.
It's about the time when considering human rights, animal rights, and others, we must make developments and legislation regarding the data rights to hold the data possessive companies accountable!
Because Data Rights are the new Human Rights!
You can also read:
Story of an unfortunate Chinese Doctor who warned about the COVID-19 at first!